Practical Implant Dentistry - Comprehensive Course for Dental Technicians
The first truly collaborative course between clinicians and technicians to achieve high aesthetic results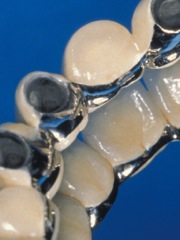 The most important factor influencing the success and longevity of any implant restoration is the relationship between the Dentist and the Dental Technician.
Both parts of the team, the Dentist and the Dental Technician, are equally responsible for the success or failure of any implant and it is of utmost importance for both members of the team to work closely and efficiently together in order to provide the patient with the best treatment possible.
The aim of this comprehensive training course for Dental Technicians is to provide predictable and safe treatment for patients to improve their health, quality of life and their ability to function effectively in society without compromise resulting from non-aesthetic or non-functional dentition.
This hands-on training course aims to develop the technical skills of participants.
You will learn how to:
Gain both a sound theoretical understanding and enhanced technical skills in implant procedures
Develop your treatment planning skills from a technical perspective
Understand the clinical aspect of the treatment carried out
Observe treatment accuracy from the clinicians perspective
Gain an understanding and familiarity of implant components
Create portfolios of live cases
Become an active and valued member of the implant team
Communicate better with the implant surgeon
Understand modern imaging techniques
Understand the benefits and limitations of CAD/CAM technology
Practical Sessions
Every technical procedure will be practised on plaster models as well as patient cases
Carry out the technical aspects for a single tooth and multiple bridgework
Carry out the technical aspects for a partial and full removable prosthesis
Carry out different types of impression casting techniques
Abutment selection and attachment
Diagnostic waxing
Design and fabricate different types of preparation and location guides
Fabricate surgical guides
Fabricate temporary restorations
Soft tissue management
Porcelain and composite build-ups
Precision attachments
Learn how to construct All on Four
Learn how to construct a Quattro Bridge
Digital Planning (CAD/CAM)
Early bird discount rate of £4,900 if you register early and pay the total fees - via online bank transfer.

£5,500 if you register and pay the total fees upfront.

£6,000 If you register and want to pay in installments. Payment in installments as follows:
On registration £1,500
followed by six installments of £750.
The purpose-built Dental Academy at the
Academy of Clinical Excellence (ACE - see link to website below) has been thoughtfully designed to deliver dental postgraduate education in inspirational and modern surroundings.
Our fully-equipped course venue contains:
5,000 sq ft facility
50 seat lecture theatre
20 bench laboratory room
23 station phantom head room
six working surgeries
Large decontamination room
Bar and relaxation area
Customer service, catering and facilities are of a very high standard at the Academy of Clinical Excellence. The centre is exclusively for the use of course participants during our training days.
Address:
The Academy of Clinical Excellence, 14 Navigation Court, Calder Park, Wakefield, WF2 7BJ
This course covers 6 hands-on modules (usually Friday/Saturday) over 18 months. Course modules are based at the Academy of Clinical Excellence in Wakefield in Yorkshire.
Starting dates for the next course will be announced soon.

Click below to contact us: