Practical Implant Dentistry - Structured Implant Training Course for Dentists
You will learn from the international faculty who set standards in implant dentistry.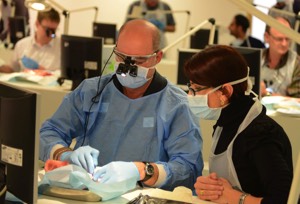 By the end of this implant training course you will be able to carry out quality implant treatment with clinical competence, achieve improved patient satisfaction and increase the services your practice can offer. You will benefit from practical sessions in all clinical procedures and undertake cadaver dissection. You will receive a free
Simplant
license for the duration of the course. Participants will carry out a minimum of ten supervised implant placements. You will also gain from observing our experts perform treatments, acquiring skills and new techniques.
This hands-on implant training course aims to develop the clinical skills of participating dentists.
You will learn how to:
Select patients who are suitable for treatment within the limits and the clinical expertise of the surgeon, and in the best interests of the patient.
Make better use of clinical examination, modern imaging techniques (3-D interactive imaging) and laboratory artefacts.
Evaluate medical and systemic condition to ensure that the patient can be treated safely.
Develop a treatment plan for each patient, communicating effectively and documenting the proposed treatment.
Identify patients requiring major augmentation, evaluate outcome and propose predictable treatment options.
Carry out all surgical aspects of the treatment including soft and hard tissue surgery, including implant placement and minor augmentation.
Carry out all aspects of restorative treatment including fixed restorations and removable prosthesis.
Provide documentation to certify that treatment has been carried out in a manner, which is medico-legally sound.
Maintain and monitor treatment that has been carried out.

Anatomy, Physiology of soft and hard tissue healing, Pharmacology, Biomaterials, Biomechanics, Medical evaluation.

Documentation and record-keeping:
Medico-legal aspects, Informed consent, Treatment plans, Clinical records, Communication with other specialists.
Interdisciplinary treatment (interfacing with):
Oral and maxillofacial surgery, Orthodontics, Periodontics, Endodontics, ENT surgery, Anaesthesia and other medical and surgical disciplines.

Patient assessment and treatment planning:
Clinical examination (intra oral and extra oral), Diagnostic preview (surgical prosthetic templates), Diagnostic imaging, Conventional radiographic imaging, Interactive 3D Imaging.

Asepsis theory and practice:
Training of surgical assistants and ancillary staff.
Intra-operative and post-operative pain management:
Local anaesthesia, Intravenous sedation, General anaesthesia, Oral and intravenous agents.
Incisions, Flap design, Soft tissue grafts.

Implant placement techniques, Conventional osteotomy preparation, Bone manipulation, Ridge expansion, Sinus floor manipulation.
Timescales, Delayed placement, Immediate placement, Delayed loading, Immediate loading.
Guided bone regeneration, Autogenous onlay bone grafts from Intra-oral sites, Sinus lifts.
Jaw relations, Record taking, Transfer of information to the laboratory.
Management of the patient during treatment:
Diagnostic preview, Provisional restorations, Transitional restorations, Definitive restorations.
Open tray, Closed tray, Conventional, Impressions at first stage surgery.
Single teeth, Short span bridges, Full arch restorations, Cement retained, Screw retained, Lateral fixation screw retained.
Removable prosthesis and over dentures:
Ball attachments, Balls and clips, Precision attachments, Telescopic crowns.
Establishing baseline records:
Clinical records, Radiographic records, Photographic records.
Establishing monitoring intervals:
Clinical monitoring, Radiographic monitoring, Oral hygiene and health monitoring.
Maintenance and management of ongoing issues:
Peri-implant issues, Occlusal issues, Component fractures and screw loosening.
Fees for the implant training programme 2018/19:

Upfront payment - via online bank transfer:
£16,000 if you register and pay the total fees upfront:
£1000 on completion of the registration process to secure your place and the balance of the fees (£15,000) by the end of February 2018.

£18,000 If you register and want to pay in installments. Payment in installments as follows:
On registration £6,000
3 months later £4,000
3 months later £4,000
3 months later £4,000
The purpose-built Dental Academy at the
Academy of Clinical Excellence (ACE - see link to website below) has been thoughtfully designed to deliver dental postgraduate education in inspirational and modern surroundings.
Our fully-equipped course venue contains:
5,000 sq ft facility
50 seat lecture theatre
20 bench laboratory room
23 station phantom head room
six working surgeries
Large decontamination room
Bar and relaxation area
Customer service, catering and facilities are of a very high standard at the Academy of Clinical Excellence. The centre is exclusively for the use of course participants during our training days.
Address:
The Academy of Clinical Excellence, 14 Navigation Court, Calder Park, Wakefield, WF2 7BJ
This course covers 12 hands-on modules (usually Friday/Saturday) over 18 months. Modules are based at the Academy of Clinical Excellence in Wakefield in Yorkshire with visit to a surgical skills training centre (anatomical dissection).
Our 2018 course will start on Friday, March 09th, 2018.
Preliminary dates for the hands-on modules in 2018/2019. Clinical observation dates are to be decided (usually Thursday afternoon prior to the contact learning dates at ACE Wakefield):
09-10/Mar/2018
13-14/Apr/2018
11-12/May/2018
08-09/Jun/2018
28-30/Jun/2018 - University of Tübingen, Germany
14-15/Sep/2018
19-20/Oct/2018
07-08/Dec/2018
18-19/Jan/2019
01-02/Mar/2019
12-13/Apr/2019
24-25/May/2019

More questions?
You might find the answer in our Frequently Asked Questions section. Click below to go to FAQs: